[Barefoot] Recover ONIE via PXE Follow
Purpose:
This article is about the procedures to recover ONIE over a network connection by the PXE (Preboot eXecution Environment) function for Wedge100BF-series and AS9516-32D.
Model:
DCS800 - Wedge100BF-32X

DCS801 - Wedge100BF-32QS

DCS802 - Wedge100BF-65X

DCS810 - AS9516-32D
Preparation:
a. PC or laptop
b. RJ45 ethernet cable
c. Serial console cable (Make sure to use the cable attached to the original box.)
d. TFTP server and DHCP server (with option 66,67)
e. PXE compressed file
f. ONIE updater
g. Console terminal (ex. putty, Teraterm, etc...)
Procedure:
Step1. Set up TFTP server and DHCP server.
The following example uses the "TFTP64" application.
1. Copy the PXE file and ONIE-updater image to the directory of the TFTP server.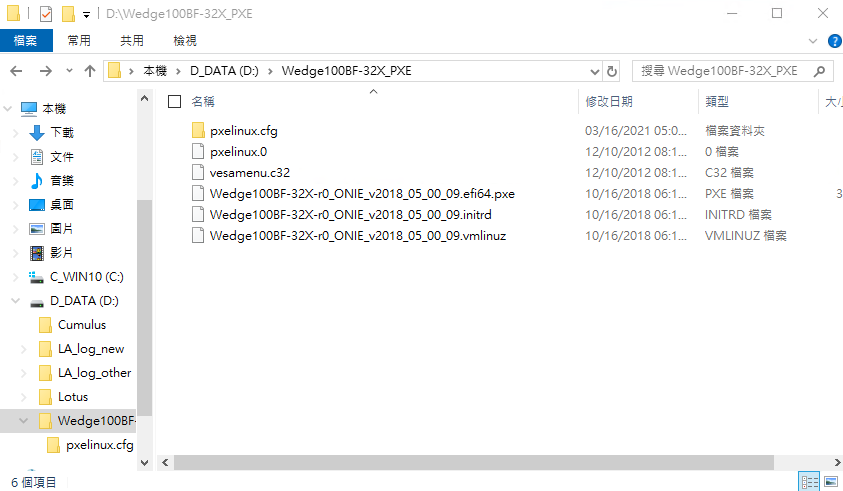 2. Find the "default" file in "pxelinux.cfg" folder and modify it by the editor. (e.g., Notepad++).
Please refer to the red mark of both following pictures, the file name must be the same.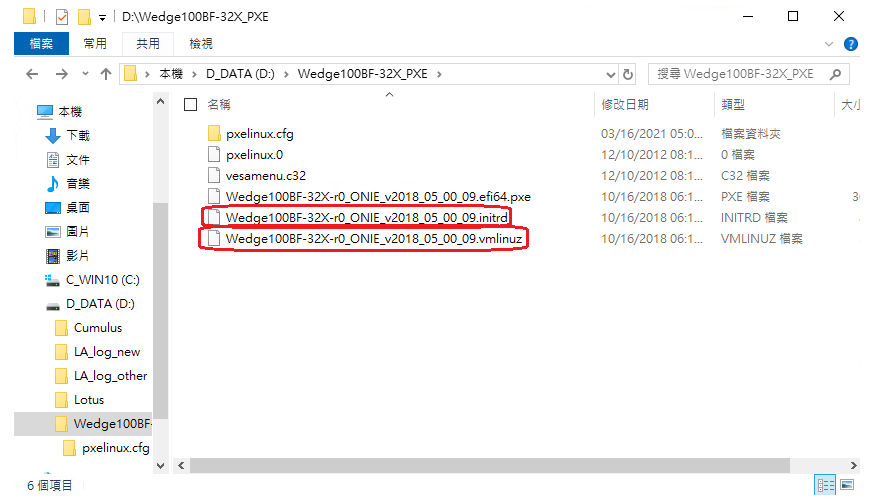 3. Run TFTP64 application.

4. Select the "Current Directory" to the specific path which contains the PXE&ONIE updater files, and make sure the server interface is connected to the switch.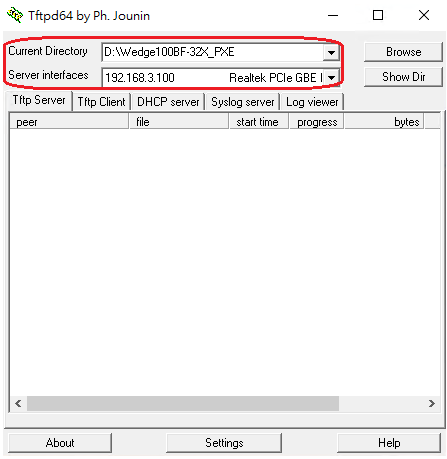 5. You may click the "Browse" to check the files in the Current Directory of TFTP64 application.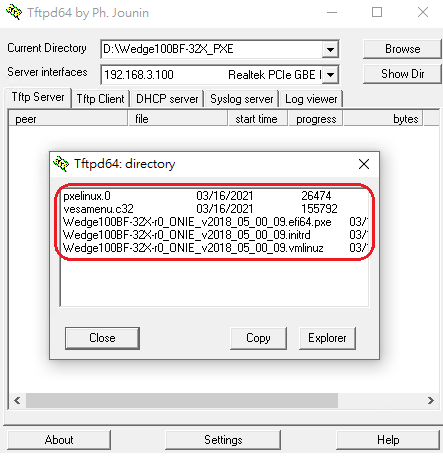 6. The TFTP64 supported the DHCP server as well, the example setting as below:
[NOTE] The boot file needs to specify as the PXE filename.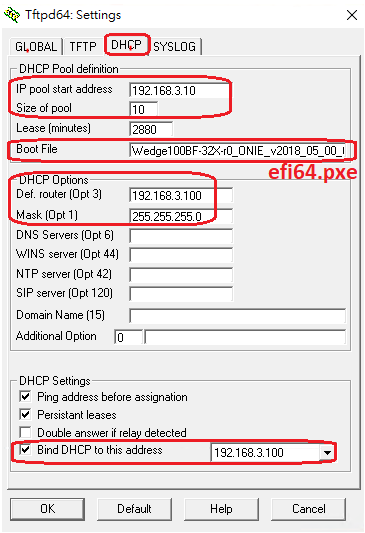 7. The example setting of TFTP server as below: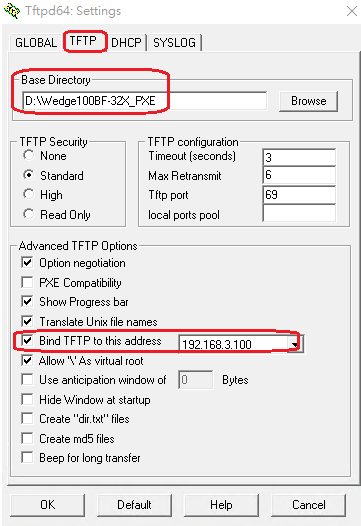 Step2. Set up the console terminal for the serial console port.
[NOTE] The baud rate is 9600.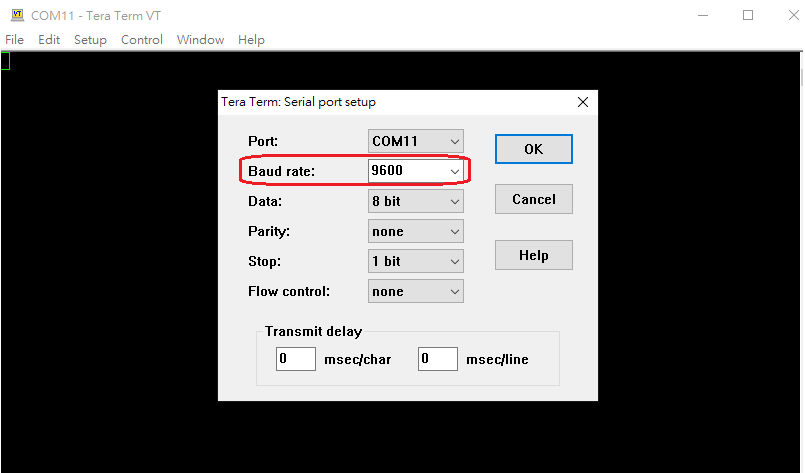 Step3. Power on the Wedge100BF switch and wait for a few seconds. Please press "ESC" to enter the BIOS menu.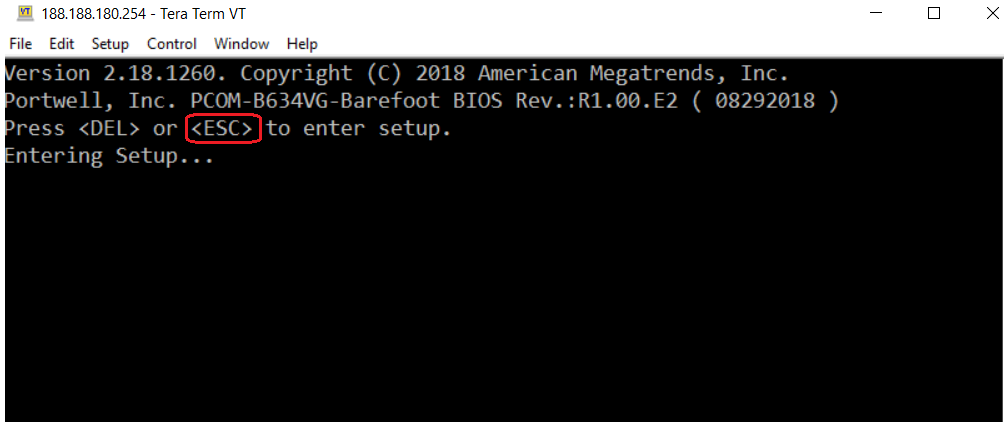 Step4. Go to the "Advanced" page and select the "Network Stack Configuration" option.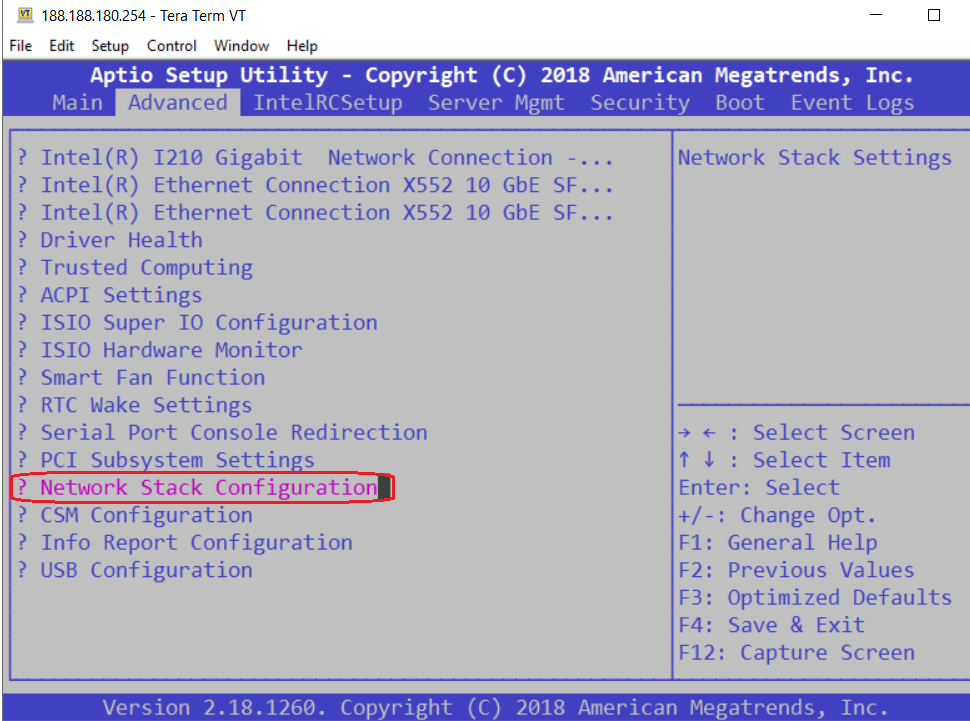 Step5. Enable the "Launch UEFI PXE ROM" and "Ipv4 PXE support".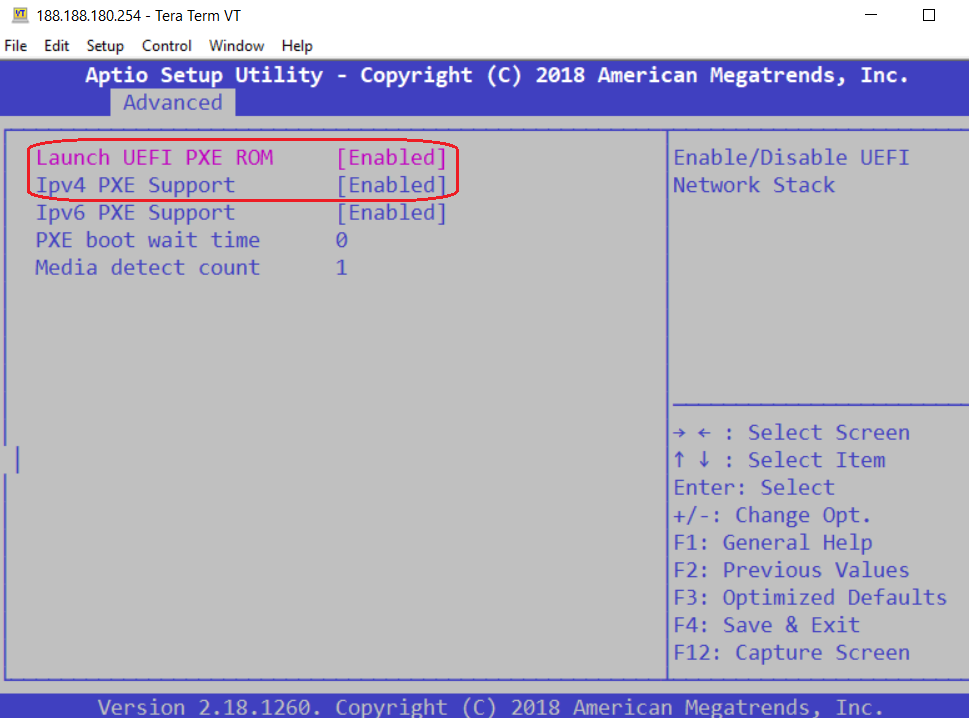 Step6. Select "CSM configuration" and configure the "Network" to UEFI.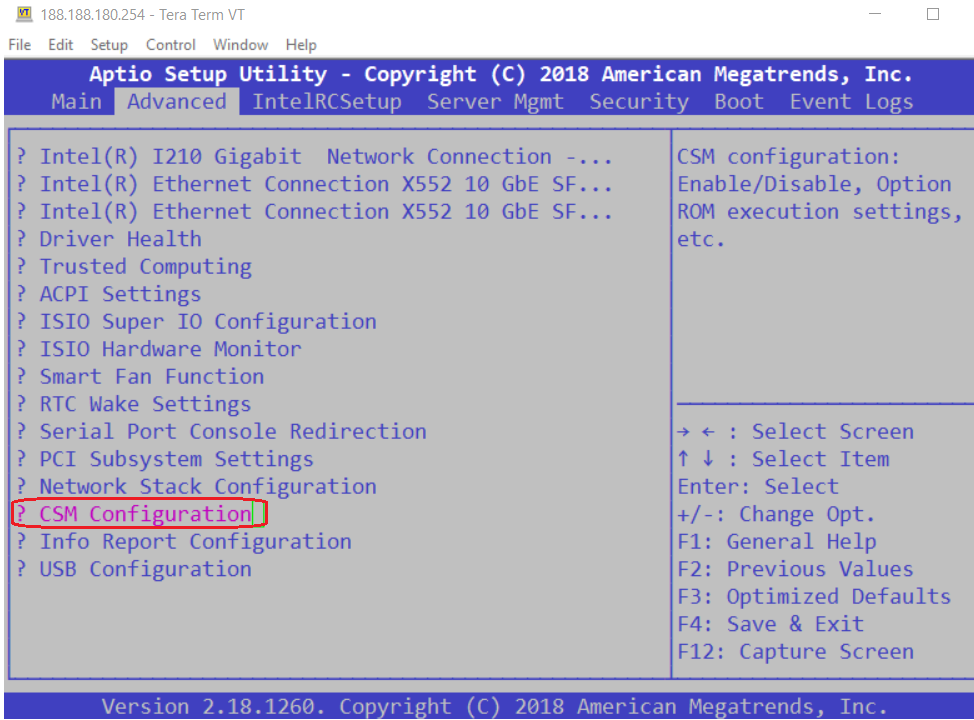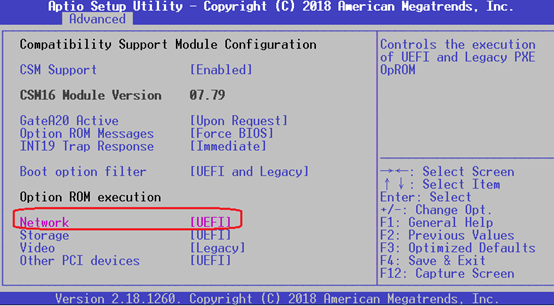 Step7. Go to the "IntelRCSetup" page then follow the below step.
IntelRCSetup > PCH Configuration > Networking > PXE ROM = Enabled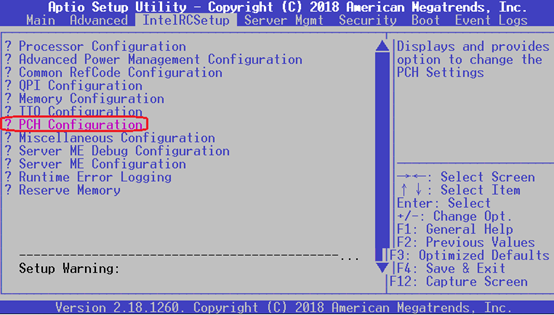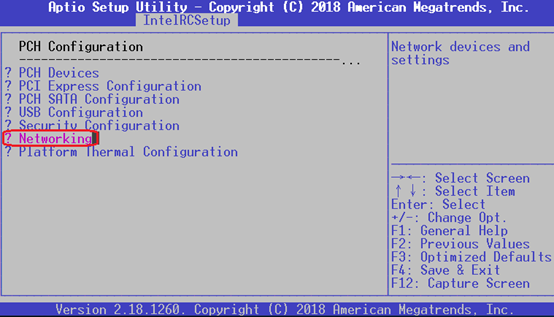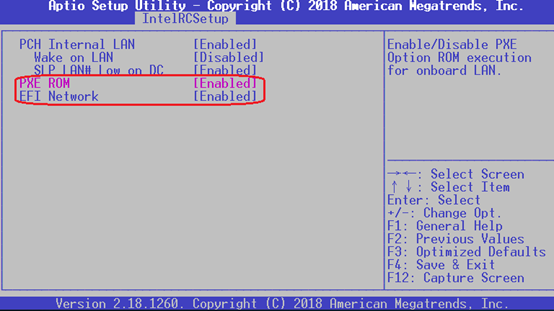 Step8. Go to the "Boot" page and then choose "UEFI: IP4 Intel(R) I210 Gigabit Network Connection" to boot up.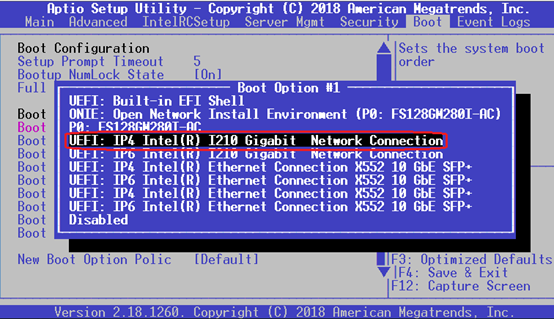 After that, please reboot the switch by "Save Changes and Reset" on the "Save & Exit" page.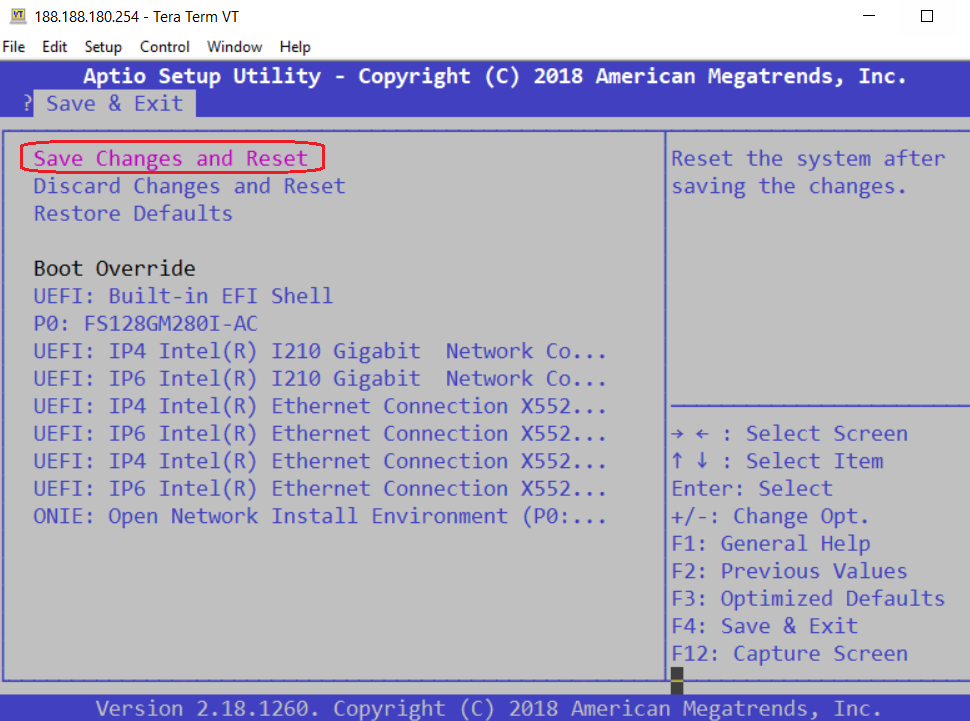 Step9. After reboot, the system will start to request the IP from DHCP server.
The system obtains the IP address successfully and tries to load the "efi64.pxe" from the TFTP server.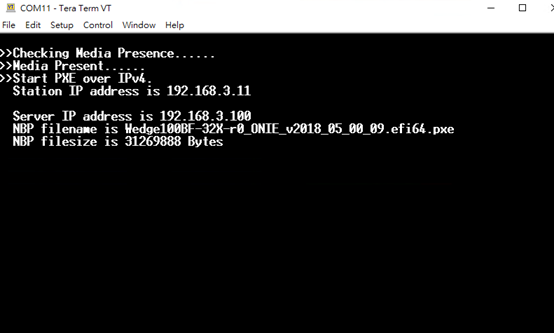 Step10. When the system is successfully loaded "efi64.pxe" file and you will see the ONIE GRUB menu. Then you can select "ONIE: Embed ONIE" to start the ONIE recovery process.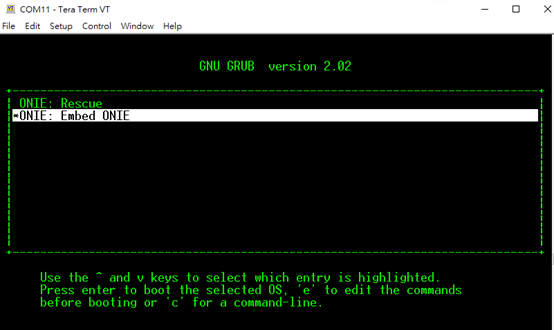 Step11. After the ONIE be recovery successfully, the switch will reboot and you will see the ONIE GRUB menu properly.