[Wedge100BF-series] ONIE recover procedures Follow
Purpose:
This post shows the procedures to recover ONIE.
Model:
Wedge100BF-32X/65X/32QS
Preparation:
A. Personal computer
B. ONIE ISO image
C. Serial Console cable:
A cable which attached in the original box.
D. Console terminal
Putty,Teraterm,SecureCRT,etc...
E. USB-stick
USB-stick with FAT32 format
Procedure:
Step1. Burn the ONIE ISO image to the USB-stick.
1. Put the ONIE ISO image to the USB-stick and insert it to the personal computer. (Linux as example)
2. Input "fdisk -l" command on terminal to check the local disks and volumes.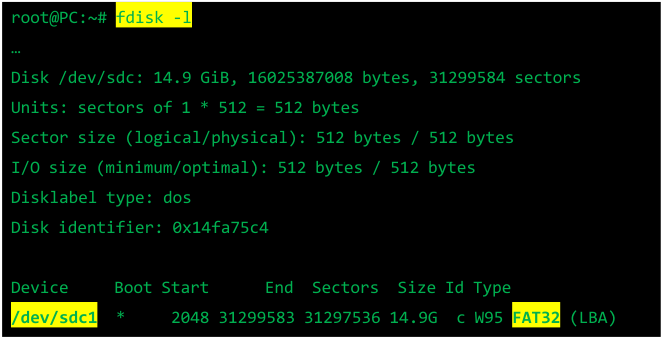 3. Start burning the ISO with "sudo dd if=[.ISO file location] of=[disk location]" command.

4. Insert the USB-stick to the Wedge100BF-32X/65X.

Step2. Configure BIOS
1. Reboot COM-E via openBMC, and press "ESC" enter BIOS.
2. At [Save & Exit] page, choose "Boot Override" as [UEFI: USB…]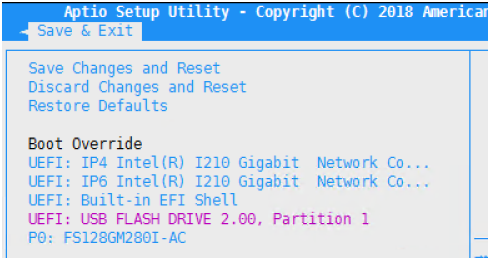 Step3. Wait for the reset time and the ONIE Installer screen will pop up, select "ONIE: Embed ONIE", the system will start to reinstall the ONIE.

Step4. After the switch install ONIE and the system will reboot after completion.
After switch boot-up, enter "ONIE" > "ONIE: Rescue" mode and check ONIE version again.