ES3528MV2 Supports BPDU - BPDU forwarding and BPDU filtering Follow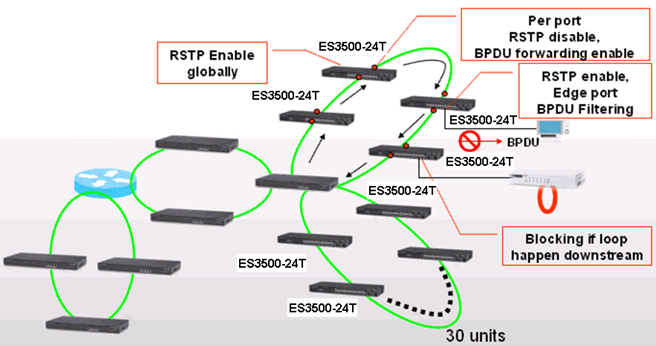 Figure 1
Figure 1 shows the scenario when BPDU function is activated in the ring.
In a ring topology, in order to reduce the convergence time and increase the number of switches in a ring, ISPs configure two connected ports in the ring as "STP disable and BPDU forwarding". When one of the ports configured as "STP disable and BPDU forwarding" receives a BPDU, it will directly forward BPDU out to another port without processing, and eventually the BPDU will come back to the Root switch quickly. When the root switch receives the BPDU sent out by itself on another port, it will block that port in order to prevent loop, and to provide a redundant path if any link failures occurs in the loop.
The BPDU Filter is designed for the port connected to end-user's device with the concept of preventing from receiving BPDU. As service providers, ISPs do not want end-users to see the BPDU that contains the topology information of the ISP network. Therefore, if the edge port is configured as BPDU filtering, BPDU will not be sent out and the end-user will not see the network information.