Editing your cloud
You can view or edit the current cloud's settings and properties by clicking on the "Cloud Properties" menu item from the cloud-level menu.
From this page you can:
Turn on beta features - this give you early access to new firmware and features.
Change your cloud's name and set a description
Set your cloud's billing address
If you'd like to manage your cloud plan, users, sites, or add-ons, choose the appropriate option from the cloud-level menu:
Switching between cloud accounts
If you're a member of multiple cloud accounts, you can switch between them by accessing the Cloud menu in the upper right of the screen (once you're logged in), and clicking on the name of the cloud to which you want switch.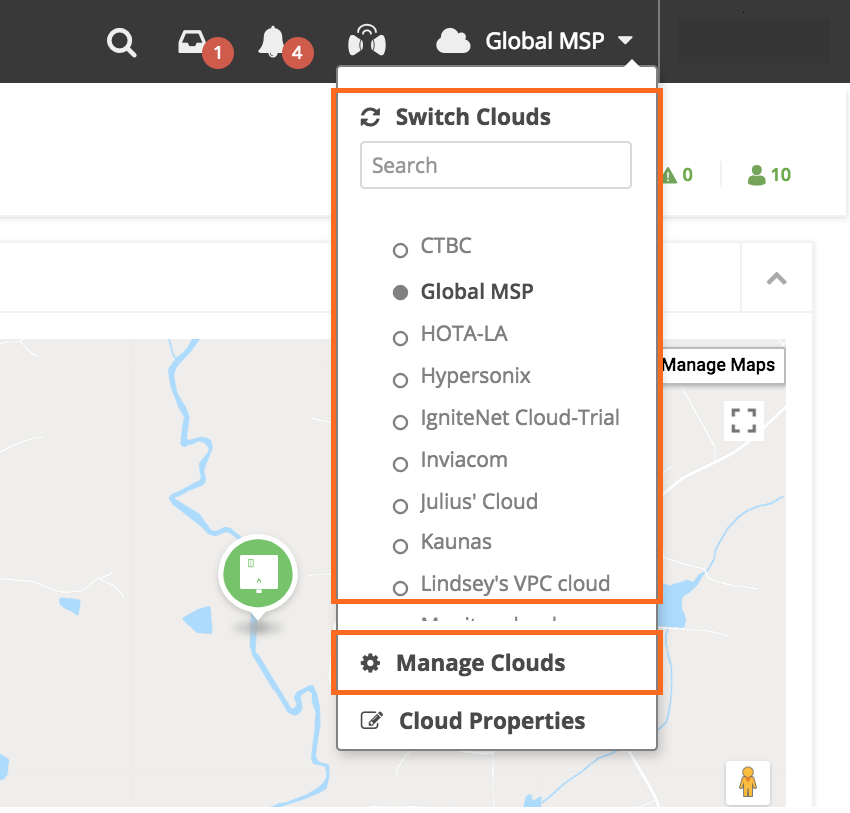 If you click on the "Manage Clouds" option, you'll be able to view a full list of the clouds you're a member of, as well as manage your membership.
You can also:
Create a new cloud
Leave a cloud
Delete a cloud (only allowed if you're the owner of the cloud)
Transfer ownership of a cloud to another user
Please continue to read below about what the different options mean.
Cloud Ownership
The user who originally created the cloud account is considered to be the cloud's owner. This user can transfer ownership to any other member of the cloud via the "Transfer Ownership" action, or promote any other user to the owner role from the "User management" page located on the cloud-level menu.
There can be any number of cloud owners, administrators, as well as standard cloud users within a cloud account.
If you wish to leave a cloud, you can choose the "Leave Cloud" action. Once you do this, you will no longer be a member of the cloud, and will not see any details of the cloud after you login to the ecCLOUD Cloud Controller.
Creating a new Cloud
If you don't yet have an ecCLOUD Cloud account, you'll want to register for a new account. After which, you'll be prompted to give a name for your first cloud, as well as create a site, and register devices.

If you already have a cloud account, just press the "Add Cloud" button at the top of your "Manage Clouds" page to create a new cloud in seconds!
Deleting a Cloud
Any owner of a cloud account can delete the cloud, at any time.
WARNING! Deleting a cloud is a permanent action and will result in the deletion of all related records, such as APs, clients, sites, system activity logs, and device configurations stored in that cloud.