Creating Your First Site Follow
What is a Site?
A "site" is a logical grouping of devices that may share common configuration settings, a common location, and/or common wireless clients and stats. For example, a site may represent a hotel, an office building, or even a small town. Most users create sites based on a specific geographical location.
There are many settings that you can manage on a per site basis, such as:
Configuration settings for the devices with in the site (such as common SSID names and encryption keys for WiFi Access type devices)
Floor maps
Notification and alert preferences
User access
The number of devices allowed in a site is limited to 500, however there is no limit however on the number of sites that you can add to your cloud.
Creating Your First Site
If you don't already have a site, you'll be prompted to create one when you login to your cloud dashboard. Simply click the "Add site" button to get started.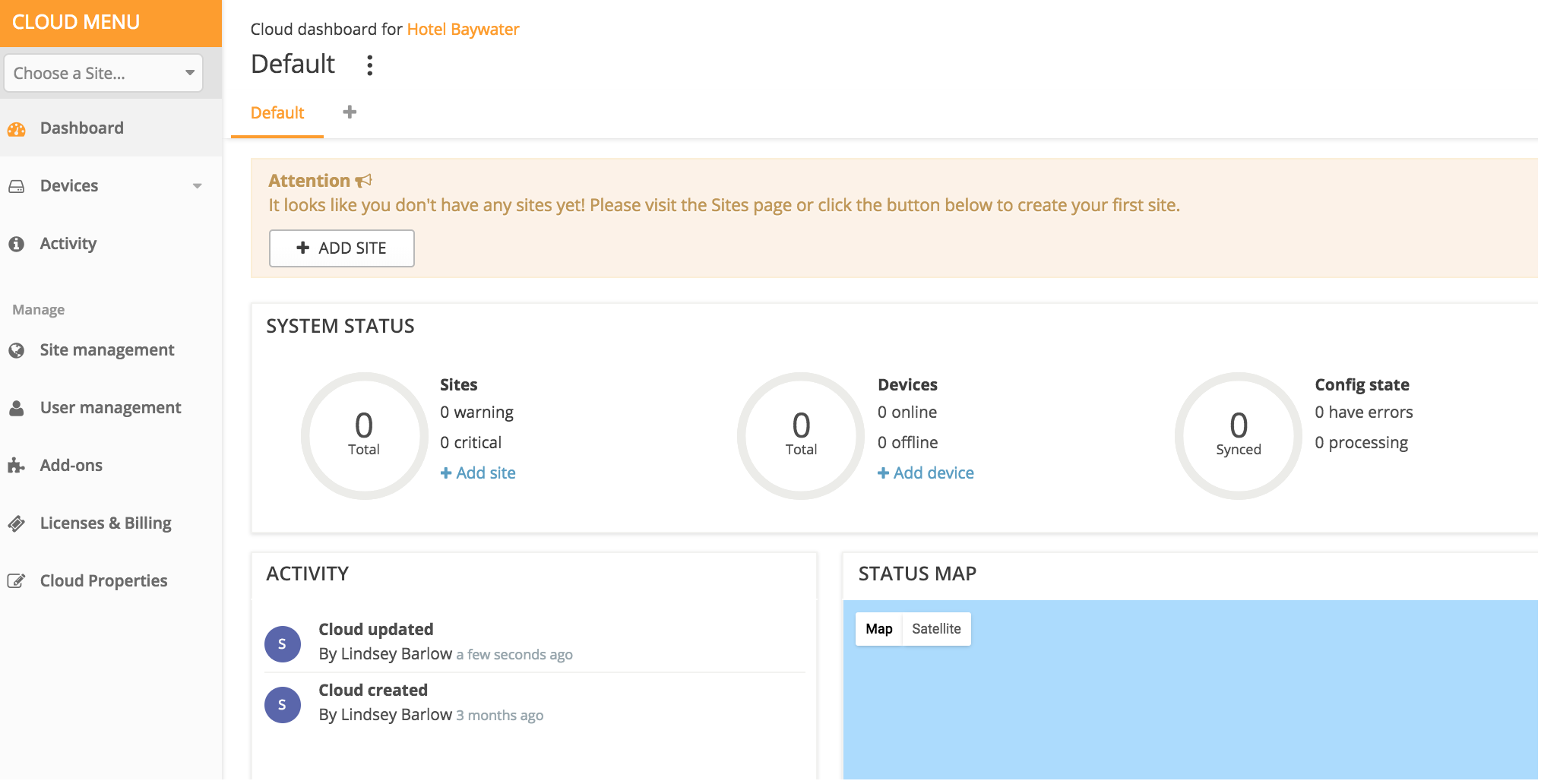 You can also add a site from the "Site management" page located on the CLOUD MENU.
Site Properties
Once you're on the "Add Site" page, you'll need to fill in the properties of your site:
Site Name: The name of your site. You should choose something short but meaningful. For our example, we're going to use "ParkSide Atlanta" since this site will represent the Atlanta installment of our fictional ParkSide hotel chain.

Description (optional): Add any notes about your site can go here.

Enable configuration: Here are the options for this setting:
ON: Leave this setting set to ON if you want to be able to remotely configure your device. (default)
OFF: If you do not want to remotely configure your devices, turn this option OFF. You can still remotely monitor your devices and will still get alerts if your device goes offline.
Upgrade At Registration: Turn this setting to ON if you want your devices to be automatically upgraded to the latest firmware after registration. It's recommended that you leave this setting to "ON".

Allow auto re-registration:

When this setting is enabled, your device(s) will automatically re-register using the behavior chosen in the event that it's reset to defaults. When this setting is disabled, a cloud user must login to the cloud and manually chose which action to take if a device attempts to re-register.


Location: The location set here will determine which map is displayed on your Site's dashboard by default, as well as which regulatory country will be used for configuration purposes. (More on this on the next step)

Time Zone: The timezone you set here will determine which timezone is used in any site-wide emails (such as alert notifications). When you're viewing dates and times in the cloud UI, the timezone that you see will be based off the one that's set in your profile.