How to configure ERPS major and sub ring with multiple instance ? Follow
The article introduces ERPS with multiple instance: Basic ERPS configuration (single ring) with multiple instance.
Support models and software version:
ECS4120 Series V1.2.2.18 and above.
ECS4100 Series V1.2.36.191 and above.
Overview
ERPS Version 2 supports multiple rings and ladder topology.
ERPS control packets can only be sent on one instance. The secondary(sub) ring needs to specify the major instance which will be used to send ERPS control packets.
In the multi-ring/ladder network scenario, a failure on a ring link between interconnection nodes of a sub-ring triggers the actions only on the Ethernet ring that the sub-ring is attached to. On the other hand, other ring link failures trigger the actions within the Ethernet ring that the failed ring link belongs to.
Topology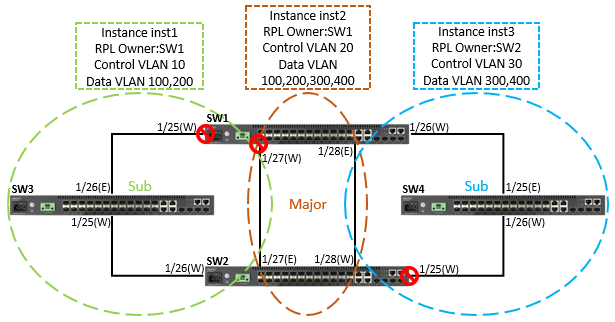 Configuration
SW1
SW1#configure
SW1(config)#interface ethernet 1/25
SW1(config-if)#switchport allowed vlan add 10,100,200 tagged
SW1(config-if)#spanning-tree spanning-disabled
SW1(config-if)#exit
SW1(config)#interface ethernet 1/26
SW1(config-if)#switchport allowed vlan add 30,300,400 tagged
SW1(config-if)#spanning-tree spanning-disabled
SW1(config-if)#exit
SW1(config)#interface ethernet 1/27
SW1(config-if)#switchport allowed vlan add 10,20,30,100,200,300,400 tagged
SW1(config-if)#spanning-tree spanning-disabled
SW1(config-if)#exit
SW1(config)#interface ethernet 1/28
SW1(config-if)#switchport allowed vlan add 10,20,30,100,200,300,400 tagged
SW1(config-if)#spanning-tree spanning-disabled
SW1(config-if)#exit
SW1(config)#erps
SW1(config)#erps vlan-group group1 add 10,20,100,200
SW1(config)#erps vlan-group group2 add 30,300,400
SW1(config)#erps ring Ring1
SW1(config-erps-ring)#ring-port west interface ethernet 1/25
SW1(config-erps-ring)#enable
SW1(config-erps-ring)#exit
SW1(config)#erps ring Ring2
SW1(config-erps-ring)#ring-port west interface ethernet 1/27
SW1(config-erps-ring)#ring-port east interface ethernet 1/28
SW1(config-erps-ring)#enable
SW1(config-erps-ring)#exit
SW1(config)#erps ring Ring3
SW1(config-erps-ring)#ring-port west interface ethernet 1/26
SW1(config-erps-ring)#enable
SW1(config-erps-ring)#exit
SW1(config)#erps instance inst2 id 2
SW1(config-erps-inst)#control-vlan 20
SW1(config-erps-inst)#rpl owner
SW1(config-erps-inst)#physical-ring Ring2
SW1(config-erps-inst)#inclusion-vlan group1
SW1(config-erps-inst)#inclusion-vlan group2
SW1(config-erps-inst)#enable
SW1(config-erps-inst)#exit
SW1(config)#erps instance inst1 id 1
SW1(config-erps-inst)#control-vlan 10
SW1(config-erps-inst)#rpl owner
SW1(config-erps-inst)#physical-ring Ring1
SW1(config-erps-inst)#major-ring inst2
SW1(config-erps-inst)#inclusion-vlan group1
SW1(config-erps-inst)#enable
SW1(config-erps-inst)#exit
SW1(config)#erps instance inst3 id 3
SW1(config-erps-inst)#control-vlan 30
SW1(config-erps-inst)#physical-ring Ring3
SW1(config-erps-inst)#major-ring inst2
SW1(config-erps-inst)#inclusion-vlan group2
SW1(config-erps-inst)#enable
SW1(config-erps-inst)#end
SW2
SW2#configure
SW2(config)#interface ethernet 1/25
SW2(config-if)#switchport allowed vlan add 30,300,400 tagged
SW2(config-if)#spanning-tree spanning-disabled
SW2(config-if)#exit
SW2(config)#interface ethernet 1/26
SW2(config-if)#switchport allowed vlan add 10,100,200 tagged
SW2(config-if)#spanning-tree spanning-disabled
SW2(config-if)#exit
SW2(config)#interface ethernet 1/27
SW2(config-if)#switchport allowed vlan add 10,20,30,100,200,300,400 tagged
SW2(config-if)#spanning-tree spanning-disabled
SW2(config-if)#exit
SW2(config)#interface ethernet 1/28
SW2(config-if)#switchport allowed vlan add 10,20,30,100,200,300,400 tagged
SW2(config-if)#spanning-tree spanning-disabled
SW2(config-if)#exit
SW2(config)#erps
SW2(config)#erps vlan-group group1 add 10,20,100,200
SW2(config)#erps vlan-group group2 add 30,300,400
SW2(config)#erps ring Ring1
SW2(config-erps-ring)#ring-port west interface ethernet 1/26
SW2(config-erps-ring)#enable
SW2(config-erps-ring)#exit
SW2(config)#erps ring Ring2
SW2(config-erps-ring)#ring-port west interface ethernet 1/28
SW2(config-erps-ring)#ring-port east interface ethernet 1/27
SW2(config-erps-ring)#enable
SW2(config-erps-ring)#exit
SW2(config)#erps ring Ring3
SW2(config-erps-ring)#ring-port west interface ethernet 1/25
SW2(config-erps-ring)#enable
SW2(config-erps-ring)#exit
SW2(config)#erps instance inst2 id 2
SW2(config-erps-inst)#control-vlan 20
SW2(config-erps-inst)#physical-ring Ring2
SW2(config-erps-inst)#inclusion-vlan group1
SW2(config-erps-inst)#inclusion-vlan group2
SW2(config-erps-inst)#enable
SW2(config-erps-inst)#exit
SW2(config)#erps instance inst1 id 1
SW2(config-erps-inst)#control-vlan 10
SW2(config-erps-inst)#physical-ring Ring1
SW2(config-erps-inst)#major-ring inst2
SW2(config-erps-inst)#inclusion-vlan group1
SW2(config-erps-inst)#enable
SW2(config-erps-inst)#exit
SW2(config)#erps instance inst3 id 3
SW2(config-erps-inst)#control-vlan 30
SW2(config-erps-inst)#rpl owner
SW2(config-erps-inst)#physical-ring Ring3
SW2(config-erps-inst)#major-ring inst2
SW2(config-erps-inst)#inclusion-vlan group2
SW2(config-erps-inst)#enable
SW2(config-erps-inst)#end
SW3
SW3#configure
SW3(config)#interface ethernet 1/25
SW3(config-if)#switchport allowed vlan add 10,100,200 tagged
SW3(config-if)#spanning-tree spanning-disabled
SW3(config-if)#exit
SW3(config)#interface ethernet 1/26
SW3(config-if)#switchport allowed vlan add 10,100,200 tagged
SW3(config-if)#spanning-tree spanning-disabled
SW3(config-if)#exit
SW3(config)#erps
SW3(config)#erps vlan-group group1 add 10,100,200
SW3(config)#erps ring Ring1
SW3(config-erps-ring)#ring-port west interface ethernet 1/25
SW3(config-erps-ring)#ring-port east interface ethernet 1/26
SW3(config-erps-ring)#enable
SW3(config-erps-ring)#exit
SW3(config)#erps instance inst1 id 1
SW3(config-erps-inst)#control-vlan 10
SW3(config-erps-inst)#physical-ring Ring1
SW3(config-erps-inst)#inclusion-vlan group1
SW3(config-erps-inst)#enable
SW3(config-erps-inst)#end
SW4
SW4#configure
SW4(config)#interface ethernet 1/25
SW4(config-if)#switchport allowed vlan add 30,300,400 tagged
SW4(config-if)#spanning-tree spanning-disabled
SW4(config-if)#exit
SW4(config)#interface ethernet 1/26
SW4(config-if)#switchport allowed vlan add 30,300,400 tagged
SW4(config-if)#spanning-tree spanning-disabled
SW4(config-if)#exit
SW4(config)#erps
SW4(config)#erps vlan-group group2 add 30,300,400
SW4(config)#erps ring Ring3
SW4(config-erps-ring)#ring-port west interface ethernet 1/26
SW4(config-erps-ring)#ring-port east interface ethernet 1/25
SW4(config-erps-ring)#enable
SW4(config-erps-ring)#exit
SW4(config)#erps instance inst3 id 1
SW4(config-erps-inst)#control-vlan 30
SW4(config-erps-inst)#physical-ring Ring3
SW4(config-erps-inst)#inclusion-vlan group2
SW4(config-erps-inst)#enable
SW4(config-erps-inst)#end
SW1 VLAN group configuration



SW1 ERPS ring configuration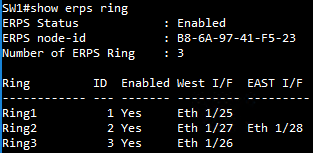 SW1 ERPS instance configuration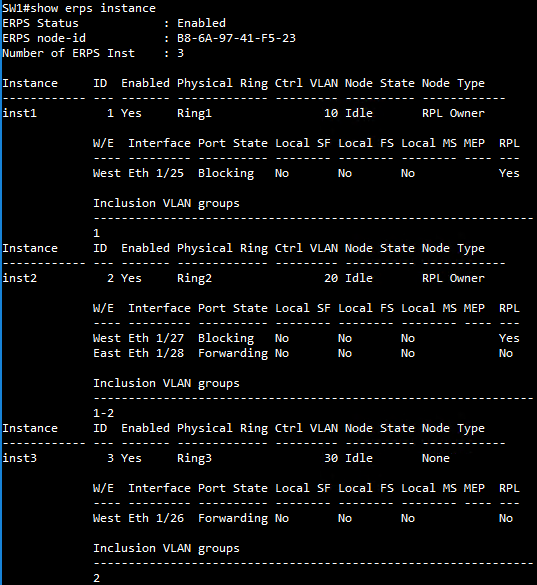 SW2 VLAN group configuration



SW2 ERPS ring configuration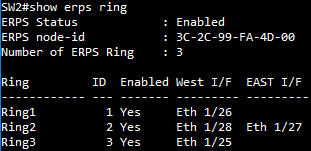 SW2 ERPS instance configuration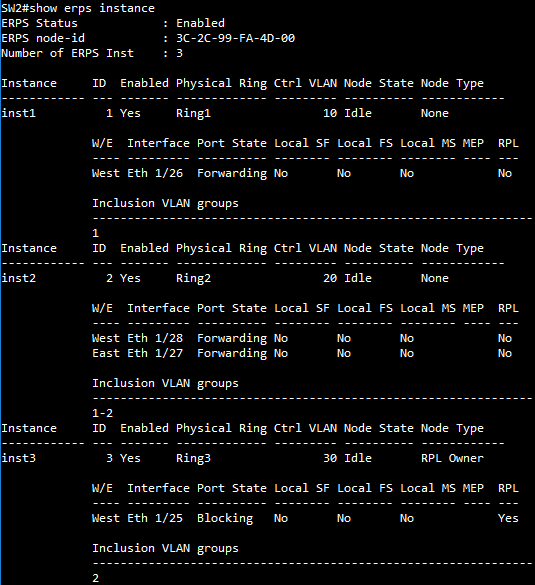 SW3 VLAN group configuration



SW3 ERPS ring configuration



SW3 ERPS instance configuration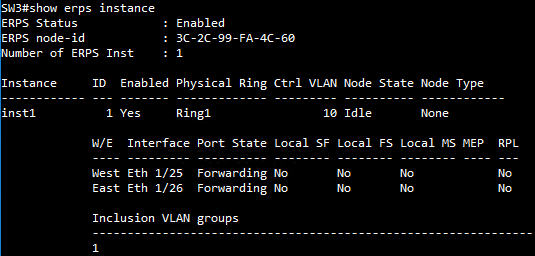 SW4 VLAN group configuration



SW4 ERPS ring configuration



SW4 ERPS instance configuration