ecOpen Quick Setup Wizard Follow

What is Quick Setup Wizard?
In order to enhance the convenience of JSON configuration, ecOpen offers user a Quick setup Wizard to generate JSON configuration.
Quick Setup Wizard organizes basic configurations user will use, provides user-friendly interface for user to configure settings step by step.
After all configurations are setup, Wizard will generate a full JSON config based on user configuration, user can add alternative JSON config as their demand.
Where is Quick Setup Wizard?
In Site level -> Configuration -> OpenWiFi -> Import JSON tab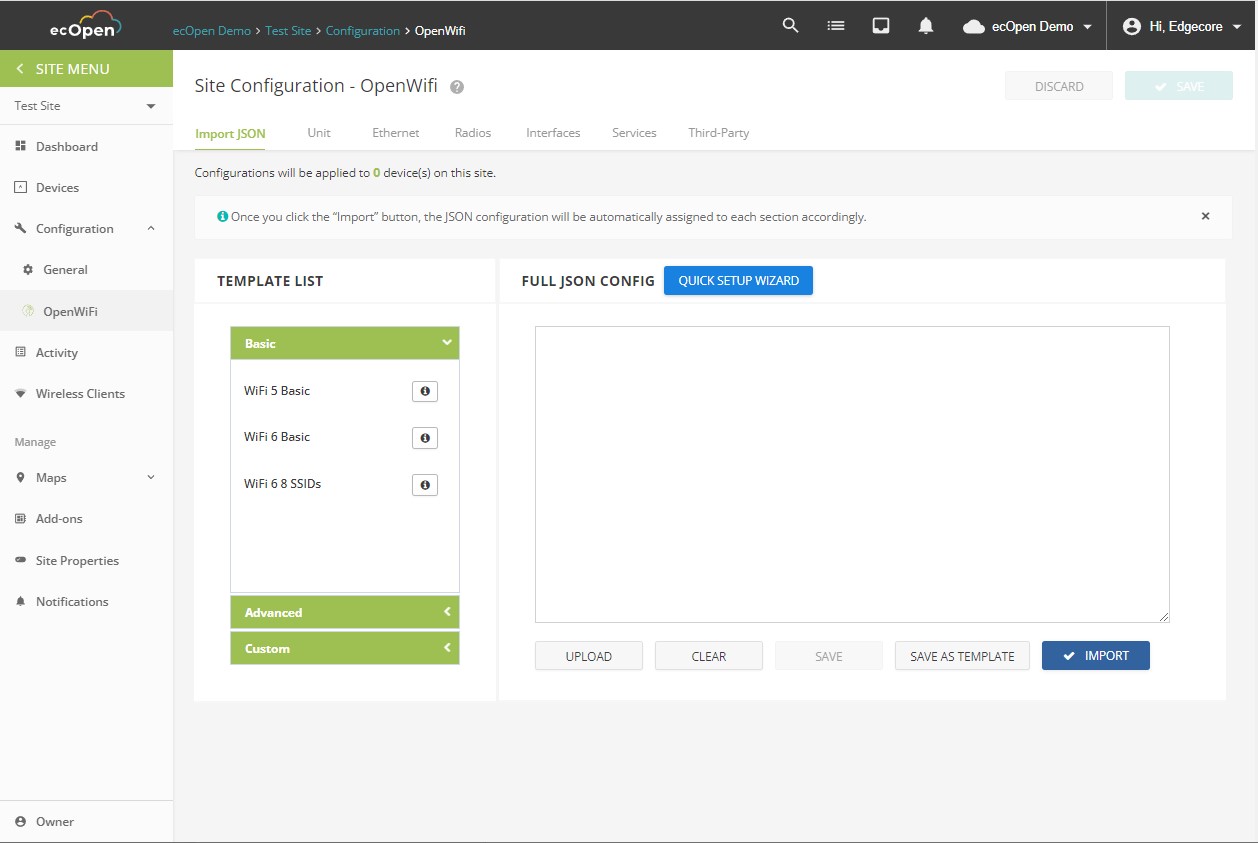 In Device level configuration -> Import JSON tab
What can I configure through Quick Setup Wizard?
Quick Setup Wizard offers most configuration that user would like to change.
There are four sections in Wizard:
RADIO section: Radio-related configurations. For example: Radio channel, bandwidth , country, Tx power, Allow DFS...

Services Section: SSH, LLDP, NTP and Log server.

Interfaces Section: Defined Uplink/Downlink or customized interface, enabled the service for each services.

SSID Section: Configure SSID-related settings. Such as: SSID name, Interface, WiFi-bands, Encrypotion... e.t.c.

How to configure through Quick Setup Wizard?
There are two ways to use Quick Setup Wizard: Generate new JSON config or Read existing JSON config.
If there is JSON content in Full JSON config, Wizard will parse the Full JSON config field and display in Wizard.
NOTE: Quick Setup Wizard only parse recognized configuration, it will not preserve the un-supported JSON section in generated JSON config.
Click Quick Setup Wizard button, ecOpen will pop up wizard and its introductions, please read the introductions then click start.


Follow Wizard's 4 steps to Configure settings based on your device capability.


After click FINISH button, the generated JSON config will be updated to Full JSON config field.

Please be noted to click "Import" button to import JSON config to each field and SAVE settings.